Living at DeTray's Colonial Inn
What is included in the monthly charge?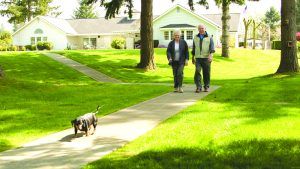 Along with the spacious apartments that have a kitchenette, living area, and accessible bathroom, we offer once a week housekeeping, three meals a day, utilities, laundry rooms, daily activities, special outings, and private shuttles for transportation to shopping and appointments.
Every resident receives exclusive access to the Colonial Estates Clubhouse. The Colonial Estates Clubhouse has a swimming pool, spa, library, game room, and activities center.
DeTray's Colonial Inn provides 24-hour staffing at our front desk for emergency assistance.
What are the rental terms? Can I rent month-to-month?
All of our suites are rented on a month-to-month basis, no lease agreements or long term commitments are necessary. A simple 30-day notice is required if you wish to discontinue your residence with us. We think you'll love it here!
Can I have pets?
Yes, you can have small pets. We require a $750 non-refundable deposit for each pet living at DeTray's Colonial Inn.
Do you offer meal service?
Yes! Yes! Our dining room offers three meals a day, with full table service and a self-serve salad bar.  Our meals are created in-house daily by our chef using fresh ingredients and good old-time home cooking recipes.
Can I have visitors, and do you offer guest accomodations?
Your family and friends are always welcome here at The Inn. We do not have accommodations for families, but you are welcome to have overnight guests in your apartment. Outside guests are welcome to join you for meals in the dining room. Guest meal tickets can be purchased at the front desk.
Are the grounds secured?
Yes. Front desk staff locks the outside doors by 8:30 pm (winter hours are at dusk), to ensure a safe and secure evening.
Are there security officers on site?
Yes. Private security officers patrol the grounds approximately 4 times a night, and are available on call or as needed 24 hours a day.
Are there medical services nearby?
Yes. We are just a few miles from St. Peters Hospital and less than two miles from the closest Fire Department paramedic unit. Our paramedic services' average emergency response time is 8 minutes.
Do you offer transportation services?
Transportation is offered several times a week to the Olympia-Lacey area. There are trips such as grocery shopping, banking, medical appointments, clothing stores, and many other seasonal options, included as a part of your monthly rent.
Are there excursions or other activities that I can participate in?
Yes! We organize outings and excursions to many of the attractions in the area, and our calendar is always full of interesting things to do, like trips to musical performances, local restaurants, scenic destinations, local, state, and national parks, and much more.
We also offer yoga, crafts, movies, physical fitness activities, ice cream socials, entertainment, games, picnics, health workshops, religious observances, arts and crafts, and many other activities on-site at DeTray's Colonial Inn or at the clubhouse at DeTray's Colonial Estates. There's always something fun going on! Check out the Events Calendar to find out how much there is do!
Do you offer parking for private vehicles?
Yes! Each of our residents gets assigned a reserved parking space near their suite, and guest parking spots are available on a first-come-first-served basis.